---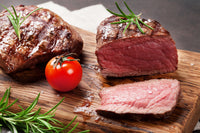 Our Filet, which is also called Loin, is one of THE most highly desired cuts of beef.  Considered to be the MOST tender of all the cuts we offer at DH Longhorn, these steaks are not very thick or big, the best way to cook them is to pan fry them or grill them for a very short period of time, as not to overcook.  This cut of beef is often used to make filet mignon, or bacon wrapped beef.  Two steaks per package. 
We take great care shipping our products. Every order is carefully packed with dry ice inside dense foam boxes, which have been specially designed to insulate and preserve beef orders.
Each insulated box can contain approximately 30 pounds of beef. All shipments are sent through UPS on Mondays or Tuesdays. Please check your shipping zone on the map below to determine if additional shipping costs are applicable with your order.